Union Street
PROJECT STATUS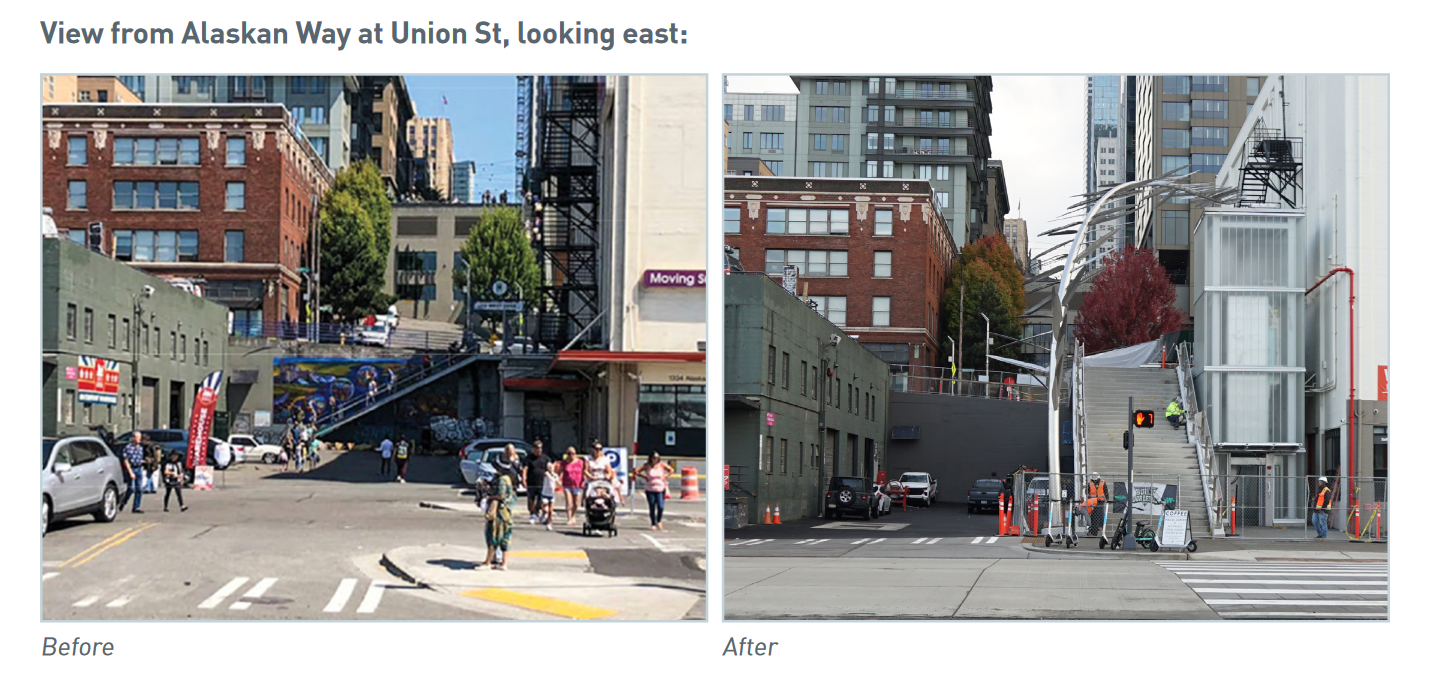 ABOUT THE PROJECT
Waterfront Seattle will improve key east-west streets to strengthen connections between downtown and the waterfront. Each of these east-west streets has a unique character, connecting different neighborhoods and opening them up to the new waterfront.
As part of these efforts, we have constructed a new staircase, elevator and elevated walkway on Union Street connecting Western Avenue and Alaskan Way. We aimed for the new connection to be accessible, comfortable and welcoming. The work also features public art from local artist Norie Sato.
ART
Artist Norie Sato has been working with the project team for Union Street to design both integrated and free-standing artwork. Her artwork takes its inspiration from the natural environment that manages to make its presence felt on the working waterfront. While performing research on the site, Sato observed a fern growing out of a crack in the side of a building. She also noted the ubiquity of seagulls. Her project overlays these two representations of the flora and fauna of the waterfront to bring attention to the ecology of shoreline that persists even in the midst of built infrastructure.
Forming a gateway over the stairway leading down from the pedestrian bridge to Alaskan Way, a steel abstracted fern frond frames the passageway. Over 30' tall, it forms a landmark that draws attention to this connection up to Western Avenue. The frond is pinned to the glass elevator tower, curved in a graceful arch. Along the pedestrian walkway at the top of the stairs that leads to Western (and vice versa), a long screen that shields the view of an adjacent property. Sato has designed a screen that combines both plant imagery – the fern repeated – and animal imagery – seagull wings. The functional fern layer, of perforated green aluminum, is overlaid with laser-cut stainless-steel wingspan of the bird species so ubiquitous along shorelines.
This piece is not the artist's first installation in this area: in 1991, Sato created a temporary artwork on the waterfront that marked the location of her arrival to this country by ship. Watch Sato talk about her personal connection to the Seattle waterfront and discuss the varied influences for her work.