Norie Sato's artwork at the Union Street Bridge was installed in October 2022. Her artwork includes a steel sculpture - whose initial inspiration was a fern that she saw growing out of a building along the waterfront - framing the passageway, and a screen on the bridge that layers abstracted imagery of seagull wings over that of ferns.
Project background
Norie Sato was chosen to collaborate with the project design team to create original artwork on the new Union Street Pedestrian Bridge between Western Avenue and Alaskan Way. Her artwork takes its inspiration from the natural environment that manages to make its presence felt on the working waterfront. This project has a personal connection for the artist: in 1991, Sato created a temporary artwork on the waterfront that marked the location of her arrival to this country by ship. Watch Sato talk about her personal connection to the Seattle waterfront and discuss the varied influences for her work.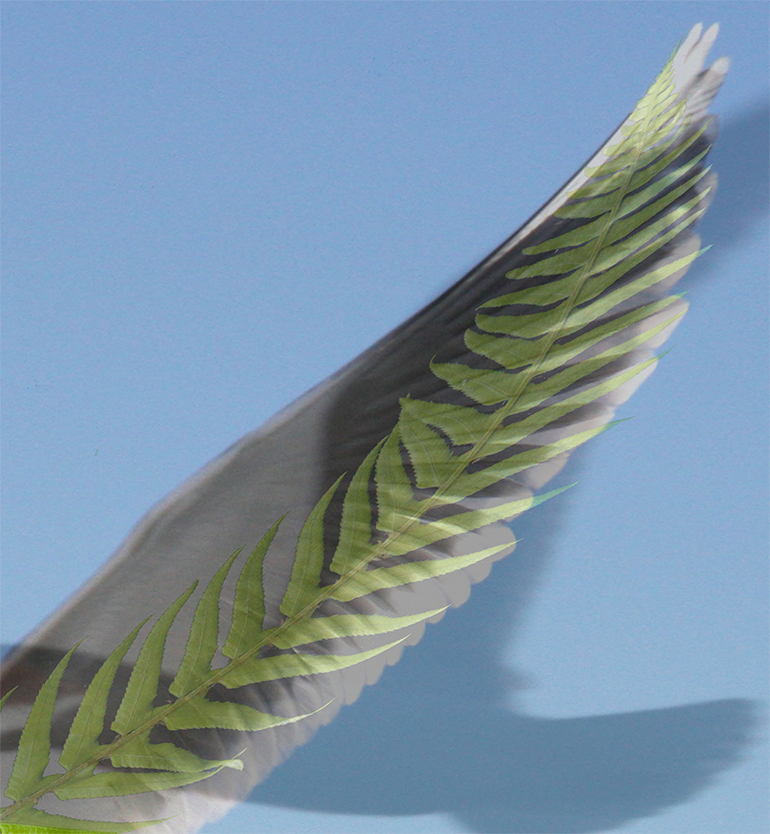 ARTIST STATEMENT
Nature's patterns, shapes and systems relate to each other in unpredictable ways. We interpret the world depending on our own experiences. This artwork looks at the different associations that could be made where nature bumps up against the man-made. But often, nature has a way of "breaking through" despite how we try to shape and control our environment.
This artwork was inspired by looking at the waterfront and how nature and the built environment interacts there. I spent 35 plus years in studios in the Waterfront and Pioneer Square areas, most of them on Western Street and Yesler where I overlooked the now removed viaduct. This allowed me to really get to know the waterfront, to appreciate its edges, light and the various things that inhabit it. The artwork incorporates many of these memories as well as allowing the elements such as the light interact with it in different and surprising ways.
This artwork, Unfurling a Gesture (The Persistence of Nature), is a celebration of the nature that perseveres along the waterfront, and an encouragement to pay attention. The title is a verb, rather than a noun, because I believe the interaction with this artwork should be active, not just a looking at an object, but actively thinking about what it is, how it is, how it interacts and changes the environment and how we perceive it. It does not assume to be a single idea, but it could be how one perceives it. It works with the memories and experiences of the viewer to become something of their interpretation, their way of seeing, not mine. I learned something as we were installing it and folks were commenting about it. Each had a slightly different impression of what it was. I had started with the idea of a fern, because I had seen a fern growing out of a crack in the concrete wall on the site as I was thinking about the concept for this artwork. That was my initial inspiration. However, other folks had different and very interesting interpretations about what they were looking at and that made me see the breadth of what is possible…and that I could not predict what that interpretation might be.
The artwork along the bridge is also an unfurling, a revealing as one walks along it. It is a combination of the fern and a bird wing, perhaps a gull wing, perhaps another type of bird, also an important presence on the waterfront. The two layers visually shift as one walks, revealing and hiding, sometimes showing a visual relationship, sometimes becoming abstract. During the day and at night, depending upon the light, the angle of the sun, the lack of sun, we can see different relationships between the layers.
We all look at things differently, depending upon our experiences, culture, world view, importance and priorities of various events and happenings in our lives. Art illuminates all of these, and, as a verb, is an active and important experience for each of us. We are persistent, nature is persistent and our experience of art is active, changing and helps us to view the world in a broader context.