Shaun Peterson's artwork will be located along the promenade, across from Pier 58. He will create three figures that will welcome visitors to the homelands of the Coast Salish people as sculptures have for many generations. He will use an ancient sculptural style, standing them on concrete bases with decorative elements that honor the Coast Salish textile art tradition.
Artist Statement
Qwalsius - Shaun Peterson is a Coast Salish artist working and residing in the Pacific Northwest region. A background based in heritage is not seen as a ceiling but rather a foundation.
Coast Salish art in this form is and always has been somewhat ambiguous. In this age of keeping inclusiveness in mind this serves to an advantage. This expression transcends the continental US and can engage an audience new and old all while grounded in true respect of tradition and change simultaneously.
"Seattle is named after Chief Seał a citizen of our Coast Salish people. In honor of that, I hope that my work will demonstrate that native art is not static. Our people are part of this land and its history, but most importantly we are part of the present."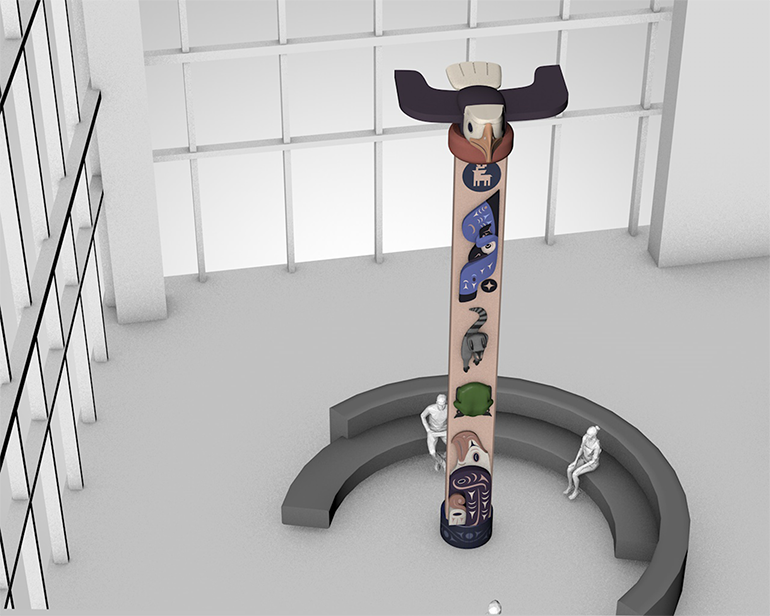 That is to say that incorporated use of materials that have been deemed 'non-traditional' are working with the values or the heritage from which he comes from. Medium does not drive the work or meaning as much as purpose of each piece created, and what suits the work at hand in particular, and this is no different.