Laura Haddad and Tom Drugan developed a concrete texture for the seawall that emulates the life forms it is trying to attract. This artwork, titled Seawall Strata, was completed in 2017.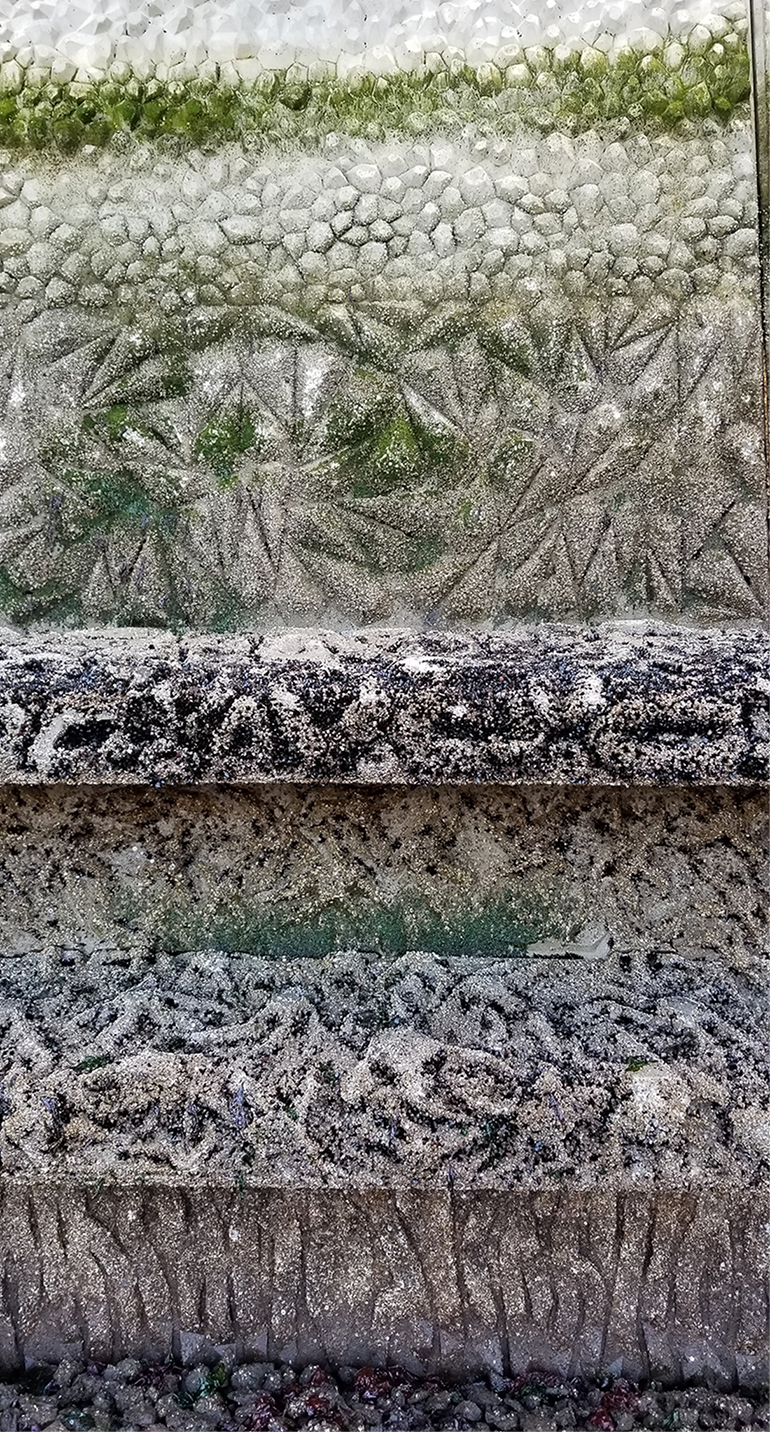 Through test panels set up near the Aquarium, the team learned that roughening the wall face by incorporating cobble-stone size texture provided helpful crevices for marine life to cling to, and that adding shelves increased the surface area on which things could grow, especially if the shelf texture could also create miniature tide pools. The visual quality of the texture was unimportant, as long as it met these criteria. The goal of the work would be that one day the concrete would be completely obscured by marine life. This surface presented a fantastic canvas and challenge for a sculptural relief that could merge conceptual meaning with functional requirements, and try to enhance the scientific results.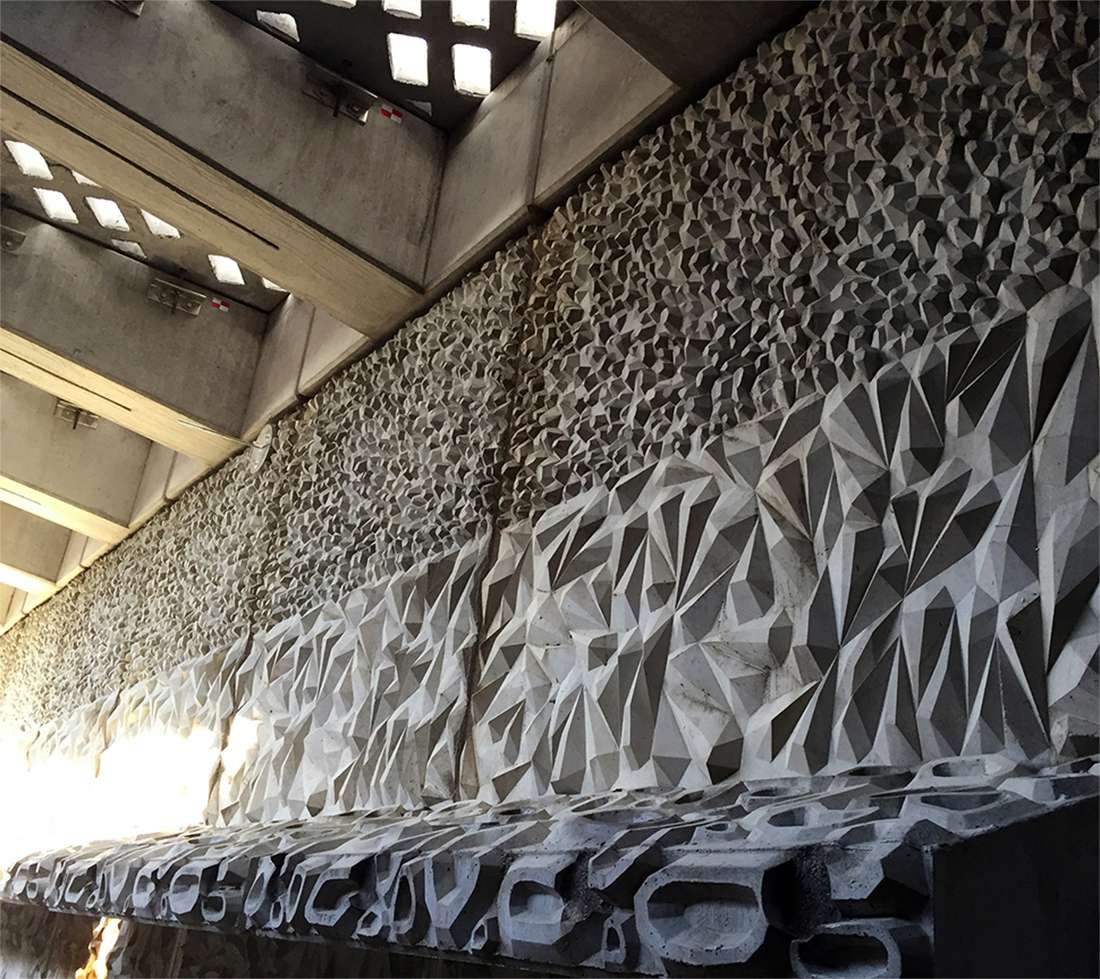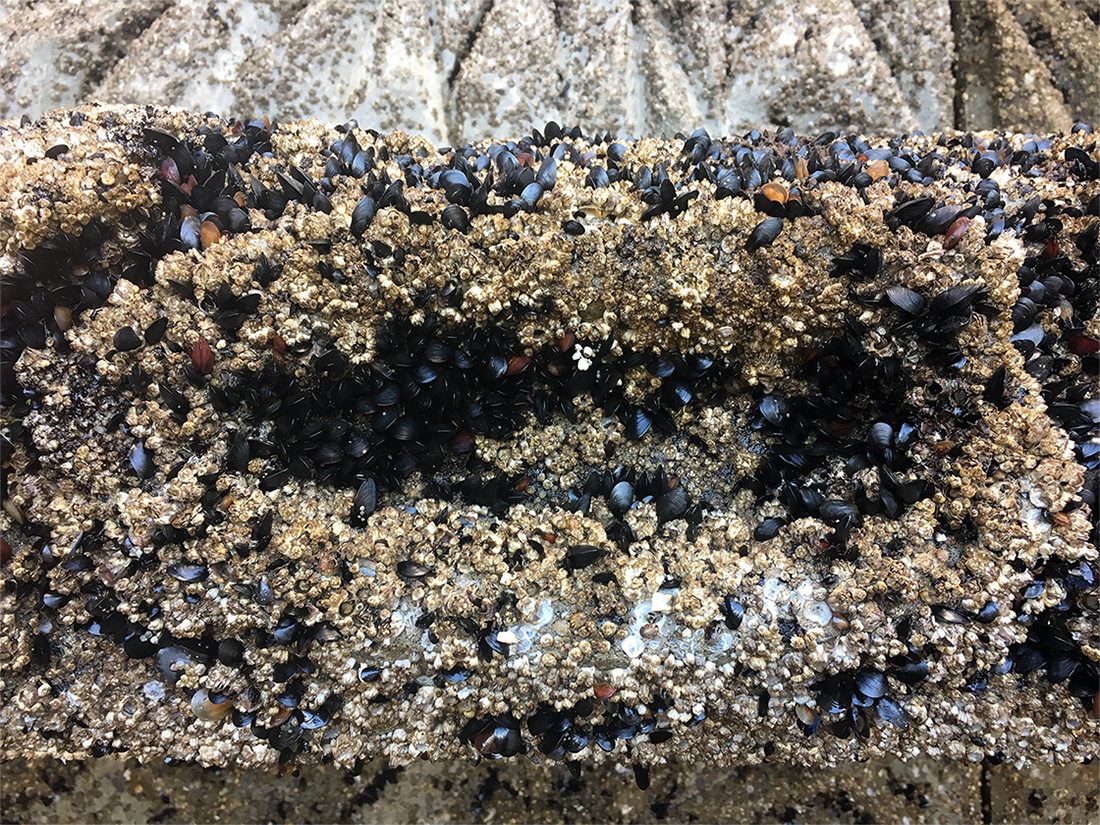 Artist Statement
The seawall is at the dynamic seam between land and sea where a myriad of elements interact in complex ways. Working with engineers and aquatic scientists, Haddad|Drugan used concepts of biomimicry to conceive a concrete texture for the seawall, with a goal of enhancing the growth of marine life.
The wall texture emulates the life forms it is trying to attract. Enlarged geometric renditions of barnacles, mussels, anemone, starfish, and rockweed are arranged vertically in rough alignment with where they live within the intertidal zone of Elliott Bay. Eventually the concrete will be obscured by these and other life forms.
A primary goal of the seawall replacement project was to increase habitat along this dynamic edge. As part of their collaboration with the Seawall design team to develop its Art Programming Plan, Haddad|Drugan worked with engineers and aquatic scientists to develop a texture for the concrete seawall face panels, with a goal of improving ecosystem functions along this edge.
Art could articulate the seawall with experimental art that operates as both a catalyst and barometer of ecological function. Seawall Strata is one of three textures found in the seawall on Seattle's Central Waterfront. It can be seen south of Pier 62 and at the Pier slip at the end of University Street. The Seawall Strata design is composed of geometric forms, including barnacles, mussels, anemone, starfish, and rockweed. The artists began to translate these into sculptural forms by first studying the real creatures and then building them in three dimensions with full-scale paper models, with a maximum depth of 2" per the engineering requirements. Next, these textures were modeled in a computer program, overlaying them onto the 8'x20' dimensions of a typical seawall panel, with shelves. This was then used to generate positive forms that were translated into concrete molds.